Having officially passed on the reins to the new exec, we kicked off term 3 with a pre term curry – of course!
Despite exams taking up a large proportion of the term, rehearsals continued each week as we worked on pieces for whit Friday and our annual concert in Burton Bassett.
Whit Friday was relatively late this year on the 14th June so we had a full band and also welcomed many ex-members back for the day. With minimal traffic on the way up, we managed to get to 6 villages: Greenfield, Friezland, Lydgate, Lees, Scouthead and Delph. Our success at each was varied – from winning a prize in Lees to coming 80th/81 in Delph. Neverthless, a great time was had by all! To see BrassSoc in action, check out: www.youtube.com/watch?v=yJgxOFYSiac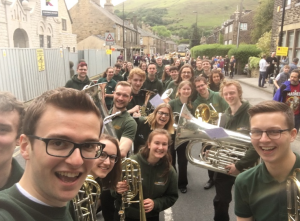 Just a week later, we headed over to Burton Dassett's All Saints Church for a great evening of music and sunshine. Both the main brass band and Symphonic ensemble performed excellently, and we also had 5 fantastic solos from our leavers this year. 
And a big thank you to everyone who stepped in to help us out with a few parts – you are always appreciated! For those who missed the concert (or just fancy listening again) for a compilation of the music played check out: www.youtube.com/watch?v=gGo4r2LOQgI  for a compilation or listen to the full pieces at: brasssoc.bandcamp.com/ 
Naturally, there were also several BrassSoc socials with the official socials for this term including a picnic, pub crawls, numerous POPs, Kasbah and the annual MC BBQ which was lots of fun and the weather even stayed dry!
An extra excitement for this term was the introduction of a novelty merch range. From baseball caps to dressing gowns, and from aprons to mugs, BrassSoc can now be represented in all aspects of everyday life!
The final event of the year was our joint tour with Wind Orchestra to Cologne after the end of term. Brass once again retained the Scavenger hunt victory title and despite not performing ourselves, we enjoyed hearing the Cologne Guerzenich Orchestra in concert instead. With plenty of sight seeing opportunities in and around Cologne, our tour reps ensured that we were kept bus and a fun (and very warm) week went by in a flash.
We're now looking ahead to the new academic year where we'll be welcoming in a new cohort of BrassSoc members!
Lots of planning is currently underway and amongst the usual term 1 socials and events, we'll be holding a main band rehearsal and Beginners' drop-in session in Week 0, building on last year's success with similar events. We'll also be competing in LBBA again and joining forces with Royal Spa Brass for a concert in November. As well as numerous pub crawls, curries and the amazing Pudding Social, there's plenty to look forward to!
Don't forget to keep an eye out on our social media pages for news and updates on the society's events and I hope you have a wonderful summer