This February, we have the honour of hosting the annual university brass band competition, UniBrass, at our very own Warwick Arts Centre! For us, as a band, this is the most exciting event of the year, and we feel very fortunate to be given the opportunity to host and receive students from all over the country for the biggest contest in British university brass banding!
Organising this years contest is the UniBrass organising committee, formed from volunteer members of the Brass Society. This is no mean feat and we are incredibly proud of what they've achieved so far and cannot wait to experience the full event on the 11th February 2023!
Of course, no contest is complete without an audience, so we'd love to invite all of you to join us in supporting our band as we compete for the UniBrass Shield, as well as all the other amazing university bands that are joining us for what will be a weekend to remember for years to come!
If you cannot make it in-person this year, don't worry, you can also watch the contest online by purchasing a streaming ticket! Tickets to watch the contest in-person and/or online can be found by following the buttons below.
In addition to an amazing afternoon of music from the university bands, The Cory Band, current European Champions, will be performing an unforgettable Gala Concert to conclude UniBrass 2023.
Cory is widely renowned for its exciting performances and is recognised as one of Wales's finest and most innovative music ensembles.
This will be hosted in the Arts Centre's very own Butterworth Hall making this a concert not to miss!!
More information and tickets can be found using the button below.
The University of Warwick Brass Society is the ideal way to get involved in music. Whether you already play brass or percussion, or you would like to learn, there is something for everyone in our four different ensembles. You can join Beginners or Intermediates if you are new to the brass world, audition for our stellar dectet or join the unauditioned main band which regularly contests.
BrassSoc is committed to maintaining a high standard of music across all the ensembles, as shown by the recent successes of our main brass band in contests around the country, as well as our performances at regular concerts. Of course, it's not just about the music, and as a society we hold a wide range of socials and activities during the year, from bowling and bar crawls to our annual Pudding Social, as well as a yearly tour, which this year saw us in Cologne. Even if you don't come from a traditional brass band background, there's nothing to worry about! Many of our current members had no experience of playing in a brass band before coming to university, which is a testament to the quality and musical diversity that the society offers.
If this sounds like the perfect opportunity for you, we are always very excited to welcome new members to the society, and I hope to see you at a rehearsal or concert soon! If you have any queries, then please don't hesitate to get in touch.
Emma Poppleton, Brass Society President 2019-20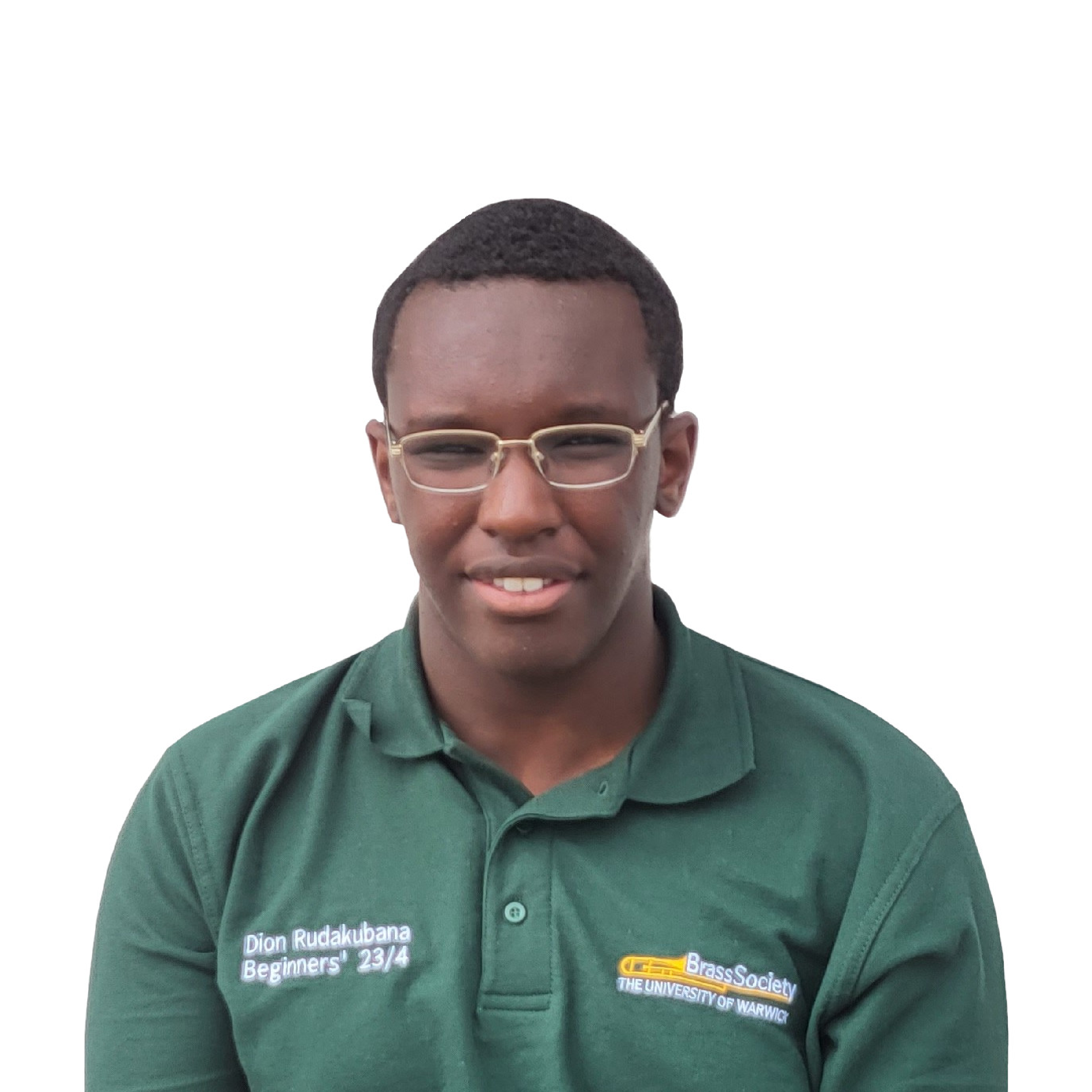 Dion Rudakubana
Beginner's Brass Coordinator
Dion is a second-year Maths student. He has been playing trombone for 10 years starting in school then his county youth band. Since coming to Warwick, he's been playing in main band developing his skills further with different repertoire in symphonic. On exec, he is the Beginners' Brass Coordinator so he runs the beginner and intermediate bands allowing anyone to learn a brass instrument regardless of their prior musical experience!
Eleanor Bowden
Busking & Charities Coordinator
Eleanor is a third-year maths student. She started playing French horn at age 11, but had never played in a brass band until university. She joined BrassSoc in her first term and shortly afterwards took up tenor horn as well.
The highlights of her time in BrassSoc so far have been Whit Friday, UniBrass and of course carolling.
Outside of BrassSoc, she can usually be found reading, crocheting or playing French horn in Wind Orchestra.
Lewis Topping
Social Secretary
Lewis is a fouth-year student studying engineering through Warwick Manufacturing Group on his apprenticeship with JLR.
Lewis has experience playing with a wide variety of ensembles from symphony orchestras to blues, ska, and funk bands but brass banding has always been at his core.
In his spare time Lewis enjoys socialising, playing sports, and watching Hot Fuzz on repeat.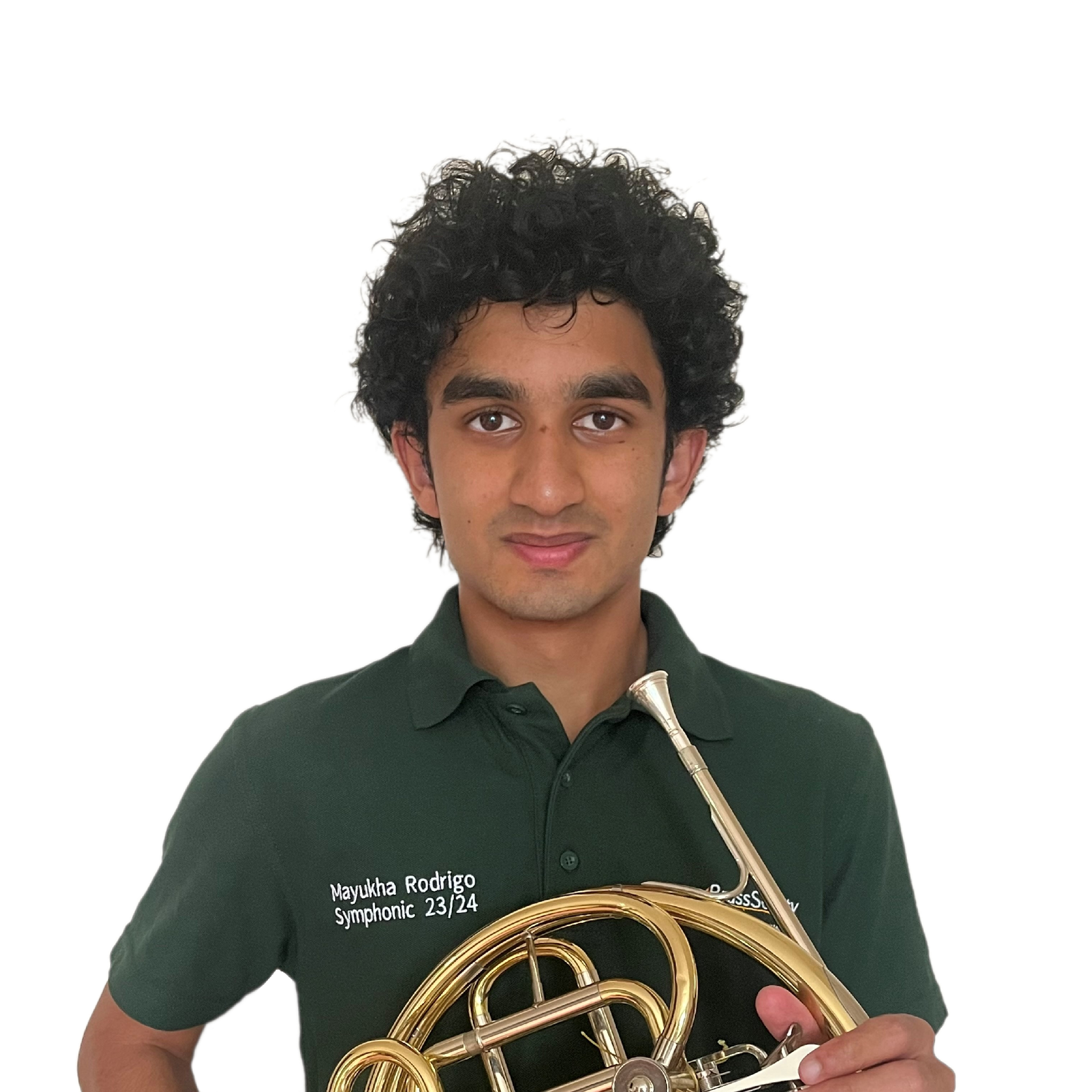 Mayukha Rodrigo
Symphonic Brass Coordinator
Mayukha is a second-year History student and has been playing French Horn for seven years and the tenor horn for nine. He has only entered the world of brass banding in University but has been a member of several orchestras around Essex, where he grew up. His highlight of Brass Society so far has been organising Symphonic Brass for the Burton Dassett concert.
Alex Timans
Concert Manager
Alex is a second-year economics student who started off playing the trumpet at around age 11, but since joining Warwick Brass Society has picked up the cornet and really enjoyed it! Apart from Brass banding, Alex enjoys playing tennis and watching Formula 1.
Ella is a second-year French and Arabic student. She has been playing the cornet for 7 years and the piano for 11, with a brief stint on the violin (a relief for all involved when she gave it up). She grew up in Dubai and entered the world of brass banding 5 years ago after moving back to the Peak District, playing in many concerts and contests with her local Brass band. Highlights of her time in BrassSoc include marching and UniBrass. When Ella isn't helping with organising the society you can find her at the sports hub playing water polo.
Leila Davis
Marketing Manager
Leila is a second-year Computer Science student who started out playing the baritone horn at the age of 8 but switched to tuba during sixth form and hasn't looked back since! She's involved herself with as many music societies as possible since arriving at Warwick and when not in rehearsal (or studying) she is busy reading, crocheting or playing games. Her role in exec includes offering cool merch and keeping the Brass Soc social media up to date!
Alwyn is a fourth-year Systems Engineering student and now president of the society after previously being treasurer and marketing manager. He has been playing trumpet for 15 years and cornet for 5 in numerous ensembles across the country. Before joining the Brass Society, Alwyn played Solo Cornet for Otterbourne Brass, Trumpet & Euphonium in the Hampshire County Youth Wind Ensemble (HCYWE), and French Horn in various orchestras. His favourite musical moments have been performing in a orchestra and concert band at the Royal Albert Hall, playing in Brandenburg Cathedral with the HCYWE, and touring Belgium with the Royal Holloway Symphony Orchestra. Alwyn has greatly enjoyed his time in the Brass Society, with the socials, Real Ale Festival, Tri-Uni in Durham, and the latest UniBrass at hosted at Warwick being particular highlights. On top of Main Band, Alwyn is also a member of our auditioned chamber ensemble, Symphonic Brass, where he plays trumpet.
Jack is a third-year chemistry student who started playing at his local silver band on the baritone horn and later moved to the euphonium which he now plays in the main band. Jack's highlights of the BrassSoc calendar are Whit Friday, the UniBrass contest, and the annual pudding social. His role on exec is to look after the societies finances and make sure we have enough money to do all of our exciting events and buy new instruments and music.
Nicholas Godfrey
Librarian & Equipment Manager
Nick is a third-year maths student who has been playing percussion since he was eight, cornet since he was nine, and brass bands and other ensembles for almost as long. He joined the Brass Society shortly after the watching the Free Concert in his first year, picked up the soprano cornet in Main Band in September 2022, and has loved it ever since. Outside of BrassSoc, he plays trumpet in the University Wind Orchestra and Big Band, enjoys swimming, playing table tennis, and programming in C.