The second term is always a busy one full of events, contests, socials and concerts, and this this year has been no exception.
Quickly following an excellent Music Centre Ball at the end of January, we had a major highlight of the year: UniBrass! This year it was held in Bangor which boasts some beautiful scenery as well as impressive university buildings. Our music choices this year were 'Let there be light' by Steven Ponsford, 'The Cossack' by William Rimmer, 'Hymn to the Fallen' by John Williams, arr. Klass van der Woude and 'All night long' by Lionel Richie, arr. Leigh Baker.
These were linked with a 'Who wants to be a Millionaire'-style quiz for entertainment, hosted by our very own quizmaster Chris Quinn with 'contestant' Jack Kay. Many thanks to all the band alumni who helped us out with the entertainment and the music itself! We had a great time performing and judging by the number of laughs, the audience enjoyed it too. Overall, we gained a position of 7th  in the Trophy section – an improvement on last year's score. And of course, we finished the day off by making the most of the social scene in Bangor.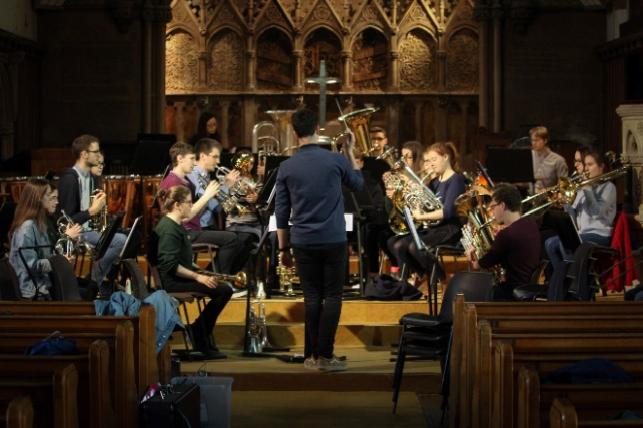 After a rare weekend off, we hosted the Tri-Uni concert – a collaboration between the Brass bands of Warwick, Durham and Leeds Universities. The concert was held in the Holy Trinity Church, Leamington Spa and attracted a considerable audience who came to listen to the three bands perform individually and as one mass band with over 60 players. Thank you to Iain Fraser-Barker for conducting us for this one (on his birthday as well – such dedication)!
The main event of the term for the Symphonic Brass ensemble was their joint concert with Percussion ensemble and the Chamber choir. The concert was very well attended and featured works by composers such as Rutter, Vaughan Williams and Khachaturian and also included the debut performance of 'Dynasties'. This piece was written by our very own Matt Jackman and Daniel Brennan in five movements based on BBC Earth's five-part documentary series of the same name narrated by David Attenborough. The standard of playing was extremely high, and the concert was fantastic to listen to.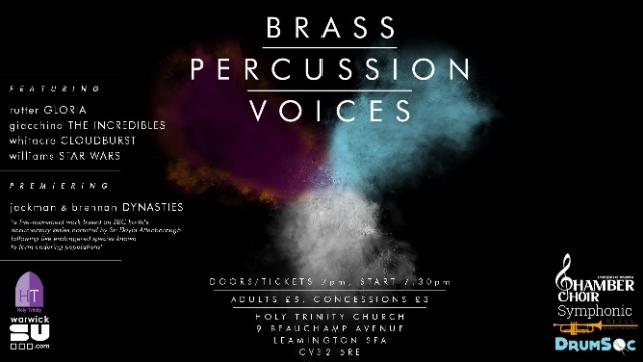 In the penultimate week of term, we elected the new exec for the 2019-2020 academic year and also competed in the Midlands Areas regional contest in the 4th section. We played Ray Steadman Allen's 'Stantonbury Festival' and placed a respectable 11th place out of 20 bands. Huge thanks must go to Catherine Fox for her conducting and musical guidance prior to the contest and also to Conor and Henry for helping us out. 
To finish off the term, we were treated to a mini-concert by the Beginner and Intermediate brass ensembles who have improved a great deal since the beginning of the year under the guidance of our beginners' coordinators Joshua Swain and Helen Wood. It was great opportunity for them to showcase their hard work from the last two terms and for some, this was their first time ever performing to an audience.
As well as all that, the society has enjoyed numerous socials including bar crawls, POP and of course, meals at the Royal Bengal. Thank you to president Annicca Prince and the outgoing exec for all their hard work this year to ensure the smooth running of the society.
Although the summer term is largely full of exams, we also have plenty to look forward to including Whit Friday and a concert in Burton Dassett which are always great events. Keep checking our website and Facebook page for details of future events and concerts!